Reason 2.0 by Propellerheads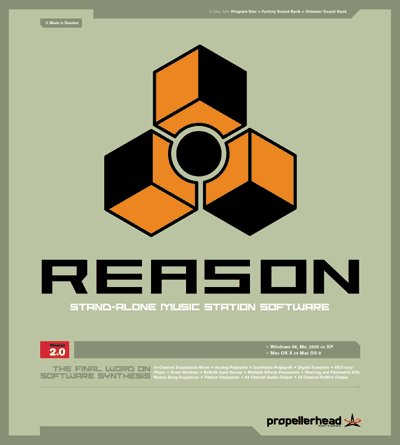 Read About The Latest Propellerheads Reason/Record Bundle!

Sweden-based Propellerheads has garnered user feedback and issued version 2.0 with new instruments and easier user interface making it a worthy successor to groundbreaking Reason 1.0. Reason has redefined the desktop musician's music creation process with Windows and Mac software that emulates a rack of electronic synthesizers, samplers, drum machines, FX's and sequencers.
Reason 2.0's main new features are: the Malström Graintable Synthesizer, NN-XT Advanced Sampler and Orkester, a sound library recorded in Stockholm (where else?) featuring live, classically trained musicians playing orchestral woodwinds and string samples.
Malström is a combination of traditional, granular and wavetable synthesis. Similar to the Waldorf Microwave, Malström takes the already interesting raw Reason waveforms like vocal formant/glottal and non-harmonic FX (noise) and creates unique new sounds using real-time control of the tremendous velocity and spectral modulation options.
The NN-XT Advanced Sampler builds on the NN-19 digital sampler and adds automatic loading and mapping of .aiff and .wav files, intelligent automatic pitch detection, and easy sample velocity crossfading. There are plenty of synth parameters that can affect individual samples, groups, or the entire patch, plus there is now the ability to sync the different LFO shapes to your song's tempo.
In the editing department, a vast improvement over 1.0 is the addition of three new editing tools: Draw Line, Eraser, and Zoom and the ability to detach and infinitely resize and/or maximize the sequencer window for easier editing. Those lucky enough to have a multi-monitor set-up will benefit the most: the instrument rack can be on one monitor and the sequencer window maximized on the other. It is now easier to edit notes with support for mouse scrolling as well as all the editing tools now standard in modern sequencer software. All program and song settings are saved, even window sizes and positioning--meaning songs load and come back up at your friend's house exactly how you left them.
Reason 2.0 fully supports both Windows XP and Mac OSX and sells for $399 MSRP. Upgrade is $89. Reason is distributed by Midiman/M-Audio. Telephone them at 800-969-6434 or visit www.midiman.net
---