Wizoo/Steinberg HALion String Edition Vol.1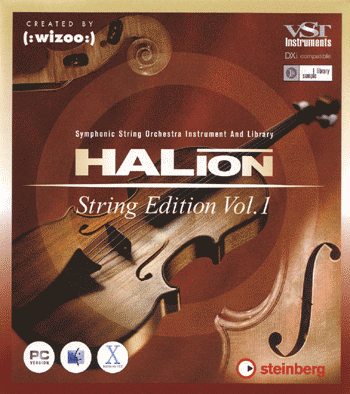 HALion String Edition Vol. 1 (Vol. 2 coming soon!) is Steinberg's first complete string orchestra for VST and DirectX compatible systems like Cubase SX, Cubase SL and Nuendo. The HALion String Player interface (available for PC and Mac OS) allows complete control over the samples of eight double basses, ten cellos, twelve violas and sixteen violins contained in the included five-gigabyte sound library.
Claudius Bruese, who was a big part of Steinberg's The Grand (another HALion streaming sampler product), also played a significant role in the production and development of the HALion String Edition. Playing styles and articulations such as legato, tremolo, pizzicato or spiccato along with perfectly balanced up and down bowing and full dynamic range are all possible. These different articulations, just a few of the many a string section can do, are one of the main secrets to realizing a convincing sounding string section virtually. This ability coupled with natural room ambience and the very authentic note decay makes this the best sounding streaming sample string library and player in this price range. (About $400 MSRP)
We found installation and using the String Edition easy and the preset controller settings (you use the bottom octave keys, mod and pitch bend wheels, expression pedal and aftertouch on an 88-key MIDI keyboard) worked out well for selecting various articulations "on the fly." We recommend the fastest computer with loads of RAM to fully use the String Edition along with whatever other VST instruments you might have running. In any event, the results were stunning and well worth the short time investment in learning this system. For much more, contact Steinberg North America at 9200 Eton Ave., Chatsworth, CA 91311. Telephone 818-678-5100 or visit www.steinbergusa.net.
---