Reason 3.0 From Propellerheads


Read About The Latest Propellerheads Reason/Record Bundle!

It's getting better all the time. The new Reason 3.0 version further obliterates the idea and use of hardware synthesizers for live and studio and adds a pre-configured Remote feature that supports motorized faders, controller displays and VU meters. Most all the major controller manufacturers--from Alesis and Behringer to M-Audio, Mackie and Peavey are supported.
Reason's formidable rack of synths, drum modules, pattern sequencers and effects has been updated with Combinator, a Combi patch saver for building elaborate chains of instruments, effects, and pattern sequencers. The complexity of new sounds using layers, splits and effects is infinite using the Combinator. Combinator is a natural for live performance, song writing and studio recording--instant, preconceived 'synth rigs' ready to go when the "muse" calls!
Other new features that make buying this upgrade irresistible are: an expanded sound bank with more multi-sampled instruments and Combi patches; a new browser that takes Reason 3 into a more 'pro' world with text search across the entire library, 'favorites' folders for your most used setups; instant audition of any samples via MIDI; Mclass, a mastering suite with a four-band parametric/shelving EQ, a stereo processor, compressor and a maximizer with look ahead limiter; and Line Mixer 6:2, a simple one rack space mixer you can add anywhere and is sample time accurate.
Reason 3 is now available for $499 MSRP and online at www.propellerheads.se/shop. Line 6 distributes reason in the US, at 818-575-3600 and www.line6.com/.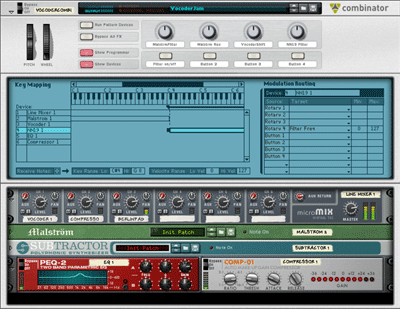 ---