SoundSoap 2 from Bias

See Update Information Below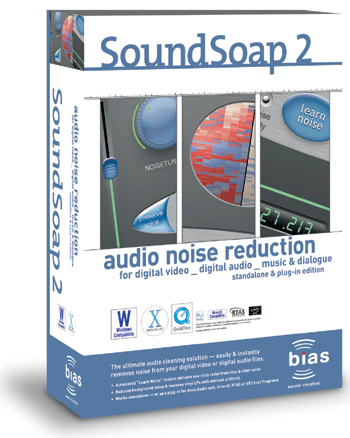 A major upgrade, SoundSoap 2 "one-click" audio noise reduction and restoration software now has vinyl LP restoration and wider plug-in compatibility but still costs $99 or $49 for the upgrade. Available for Win XP and MAC OS X, SS 2 benefits from Bias' top line product SoundSoap Pro with many of the same features but with a simplified user interface. Both SS Pro and SS 2 amazingly eliminate or greatly reduce any audio noise like A/C rumble, clicks, pops, broadband noise, hum, 50 or 60Hz hum, hiss, camera noise from your home DV movies and even room tone.
The new Remove Click & Crackle component is perfect for 'washing' the stereo audio files made after you transfer your favorites from your vinyl record collection to your computer. I thought I wouldn't mind an occasional click or pop but typical CD digital audio has erased my tolerance so they have to go. I also used the new Enhance feature occasionally to add a sparkle to some of the lack luster sounding LPs in my collection.
SoundSoap 2 is compatible with DirectX, VST, Audio Units, RTAS/AudioSuite host applications as well as video editing programs like Final Cut Pro. You can use it within Apple's GarageBand, Digidesign's Pro Tools, Sony's Sound Forge, MOTU's Digital Performer and Cakewalk's Sonar--to name a few. It also operates as a stand-alone application for direct processing of audio files, plus soundtracks of Windows Media and QuickTime movies.
Learn more at www.bias-inc.com.


Petaluma, CA May 4, 2010 Berkley Integrated Audio Software ("BIAS"), Inc. announced today that SoundSoap 2.4--an important update of the world's best selling audio noise reduction software plug-in and application for Mac and Windows--is now available. The update offers new localized tool tips, compatibility with the latest Pro Tools 8 software from Avid, and additional enhancements and "One-click" Audio Cleaning for Speech, Music, and more.
---