Pro Tools Version 7.3

Read About Avid's Pro Tools 9!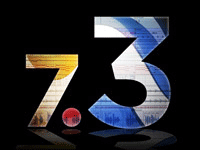 Digidesign just keeps making it better and better with their latest version of software for Pro Tools|HD®, Pro Tools LE™, and Pro Tools M-Powered™ systems. This update adds refinements and even more user customization to increase the speed and quality for both music composers/producers and audio mixers for postproduction.
On the music side, there are new loop composition features: Dynamic Transport mode allows playback to operate independently of the current selection and the Loop Trim tool turns audio or MIDI regions into loops. I especially like the new metronome pull down: just pull it down and a click track with an already instantiated metronome plug-in pops up in the mixer already to play at the session tempo.
Since Digidesign recently bought the Sibelius notation software company, Pro Tools 7.3 now outputs, with the "Send To Sibelius" menu command, for instant notation of MIDI compositions or individual tracks to Sibelius for printer copies of arrangements or instrumental parts--look for integrated notation in future Pro Tools software. User customization and speed-enhancing features start with the new Window Configurations feature for storing and recalling up to 99 window layouts. Memory location, Zoom Toggle preferences, and track heights are now user-customizable. To keep the music pumping, users can make many changes to their mixing configurations without manually stopping and restarting playback, and a new drag-and-drop plug-in settings function allows for instant plug-in opening or settings recall. For post professionals working with Pro Tools LE 7.3 software, the DV Toolkit™ 2 option adds new QuickTime® video editing and export features, as well as integrated multi-channel field audio matching.
Pro Tools 7.3 software is available for all Digidesign-qualified Windows XP and Mac OS X-based and Intel-based Mac Pro Tools systems and across all Pro Tools product lines (Pro Tools|HD, Pro Tools LE, and Pro Tools M-Powered). Pro Tools 7.3 software is available at store.digidesign.com. The Pro Tools HD 7.3 Standard Upgrade is $199; it's $79 to upgrade from Pro Tools HD 7.2. Pro Tools LE 7.3 is $75 upgrading from Pro Tools LE 6.x; a $49 upgrade from Pro Tools LE 7.x and Pro Tools M-Powered 7.3 is $49. More at www.digidesign.com.
---
Web Page design is copyright © 2007 by Barry Rudolph