Shure SRH750DJ Pro DJ Headphones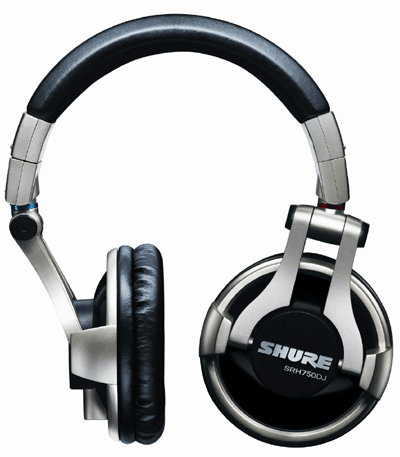 As reported early in these pages the Shure SRH750DJ headphones have now joined the growing line of their professional headphones. The 750DJs are designed specifically for the requirements of professional DJs. These phones feature larger 50mm drivers for high output bass, extended high frequencies and maximum power handling to blast over noisy club environments.

Especially comfortable, the padded ear cups swivel around 90-degrees for wearing one side only--standard operating procedure when mixing.

Other good things are: 3-watts maximum input; a closed-back circumaural ear cup that fits comfortably over the ears reducing background noise; a bayonet clip securely locks the phone's cable into the ear cup; an extra set of replaceable ear cup pads included; 3-meter (10ft) coiled detachable cable; and plush carrying bag.

I compared the 750DJs to my growing stable of headphone choices at my Tones 4 $ Studios: Shure's SRH840s, Ultrasone's HFI 680s, and AKG's K271s. While the K271s are flat and clinical sounding and offer no "love" on the sound they do reveal inner sonic details. My favorite of the four remains the Shure SRH840s for their analytical clarity and more enjoyable and beautiful sound. But the new 750DJs are a very close second in overall sound quality and better sounding for loud work since they focus more on the important mid-range frequencies. The 750DJs also feel lighter and less restrictive on my head--less noticeable--certainly less than the Ultrasones--the brightest sounding pair of the four.

I also liked the 750's styling--a futuristic look my studio clients key in on every time. The SRH750s go very loud--loud enough that I can take them off, place them on my desktop, crank them up and listen to mixes! The low frequencies don't go away at extreme volumes either as that 50-mm driver really puts it out!

The Shure SRH750DJ headphones sell for $149.99 MSRP and have a two-year limited warranty (an amazing warranty for any headphones!) For more information, visit www.shure.com.







---
Web Page design is copyright © 2010 by Barry Rudolph