Focusrite VRM Box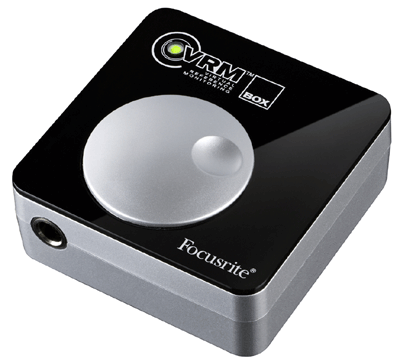 Focusrite's new VRM Box is a DAW headphone stereo playback monitoring system that uses Virtual Reference Monitoring technology. About size of a small pillbox, the VRM Box is USB-powered with up to 24-bit/48kHz resolution over USB 2.0 and up to 192kHz when using the S/PDIF digital input. Its small footprint allows it to fit anywhere on your desktop--right next to your QWERTY keyboard for example. It fits into your laptop carrying case for use anywhere and has a smooth working volume control. Both USB and S/PDIF inputs make its use possible with any DAW even a Pro Tools HD system--already running with its own I/O.
If just headphone monitoring is all the VRM Box did, I'd be sold but I discovered a lot more after I installed the included VRM (ver 1.1) software. With the software running (and it's not required for basic operation), you'd be able to monitor your mixes as if playing over a wide selection of popular studio and home stereo speakers and in your choice of three different rooms. The three rooms are: a professional studio, bedroom studio and a typical sized living room. Some of the speakers modeled are: KRK's RP6 G2m, Genelec's 1031A, KRK VXT8, ADAM 2.5A, small and cheesy computer speakers, a pair of "Japanese White Classics", flat-screen television speakers and many more.
I found the VRM Box extremely useful when mixing because it is a great way to get a "different look" at my music's balance instantly. Furthermore, besides not having to own all these different speakers and amps, I can check my mixes on a laptop away from my Pro Tools HD rig in a consistent manner. I always use my Ultimate Ears in-ear reference monitors in the studio as well as on the road and now I can always hear the same virtual speakers and rooms by way of the VRM Box.
Without the VRM software running, I also tried my Shure SRH840 headphones and noticed a significant increase in quality as compared to just plugging into the headphone jack of the computer. The VRM Box sells for $124.99. Check: www.focusrite.com/products/vrm/vrm_box.
---
Web Page design is copyright © 2011 by Barry Rudolph