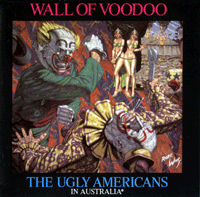 The guys from Wall of Voodoo were all signed to the MCA publishing company. During my stint working in the "dungeon" at MCA, Universal City, CA. most of the engineers grew tired of the band's shenanigans and became NOT available to work. I had always loved "Mexican Radio" so working with them was a natural. The band then consisted of: Andy Prieboy (vocals and keyboards), Marc Moreland (guitars), Ned Leukhardt (drums), Chas T. Gray (bass guitar, backing vocals and keyboards) and Roger Mason who helped on keyboards and backing vocals. Marc's brother Bruce Moreland also helped from time to time. I had been working on many Voodoo song demos destined for use in their next record when Andy Prieboy asked me to mix and co-produce a live album they had already recorded in Australia. We mixed "Wall of Voodoo-The Ugly Americans in Australia" in three days at NRG Studios in North Hollywood. I found all the Voodoos very cool to work with and developed a special rapport with Andy. After the band broke up, I mixed his solo album. Andy was the biggest cheerleader for the band and was always there with constant, enthusiastic energy. Unfortunately, the rest of the band did not want to continue.
UPDATES!

01/20/02 Older brother Bill of Ned Leukhardt, drummer in WOV's second configuration, e-mailed me to report that Ned now lives in Norway and plays with a band called Toini and the Tomcats. They have three CDs out, a rockabilly following and play the occasional date in the US.


Get Yours Now At Amazon.com!

Get Yours Now At Amazon.com! More On WOV