Westone AC2 Custom Musician In-Ear Monitors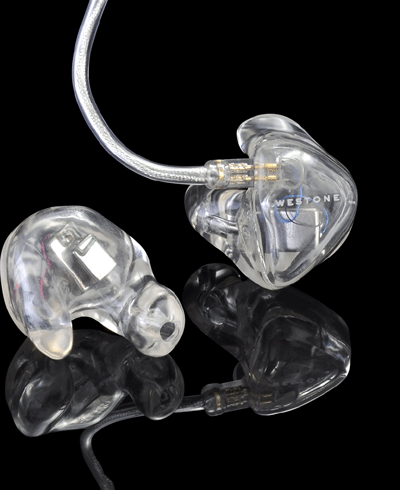 Westone's AC2 In-Ear musicians' monitors are for both musicians and everyday music fans who'd like to step up to their first pair of custom-fit ear monitors. You'll immediately hear what all the buzz is about when you get your AC2s; they have the great sound of high end Westones (as previously reviewed in these pages recently: the Westone 3, the Westone ES5, and the Westone UM2 models) because they have dual-balanced armature drivers.

The AC2s are available only in clear, full acrylic earpieces that fit so well that you'll forget you're wearing them. Each pair have the Westone name etched on the faceplate, a matching clear cable and a kit that includes a wax loop and soft cloth for cleaning---and it all comes in a zippered crush-resistant carrying pouch

Important specifications are: 119 dB SPL/mW sensitivity--meaning that even the (IMHO) anemic headphone amplifier inside an iPod will drive these louder than you can take. They have a 27-ohm impedance, a passive crossover, frequency response is rated at 20Hz to 18kHz, and there is 25dB of average external noise reduction. You'll find that they shut out the sounds around you that might interfere with your music enjoyment.

With user manual, the Westone AC2s sell for $399MSRP. Your visit to a Westone-qualified audiologist for ear impressions will be a separate charge. More at www.westone.com.







---
Web Page design is copyright © 2011 by Barry Rudolph